Next Race Meeting 10/11 June
National Qualifier
An afternoon of varied weather conditions was in store for those who attended Down Autograss on Sunday 21st of May for the second and final round of NI League National Qualifying.
With a pit of 50 cars there was some great racing throughout the afternoon, one of the highlights being the class 7's which was closely contended between Barry Smyth and Howard Cochrane.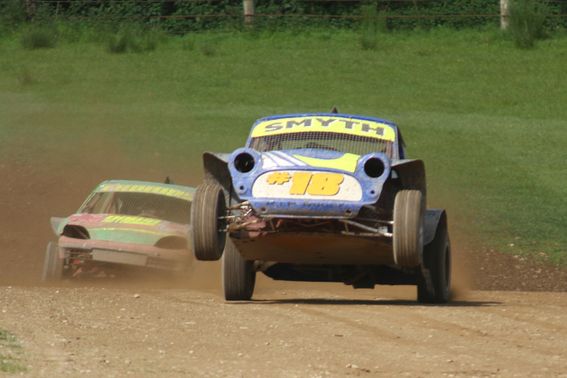 Tagging Follow Up
Anyone with cars that had minor issues on tagging day can contact Paul Parr before their first day of racing to ensure and check that anything identified has been corrected.
Until those issues have been resolved you will be unable to race
Important Notice Regarding Licensing
We've received word from Jan Ward, who looks after the licenses, that she has received a number of license application with insufficient postage for the return of the license or blank envelopes for the return rather than self addresses envelopes.
Please ensure if you are sending your license off it needs to be accompanied by a self addressed envelope and the right postage (2x 1st class stamps in the North, £2.45 in the South), otherwise you risk not receiving your license back.
2017 Committee
Following the AGM on Friday 17th of November the 2017 Committee is as follows
Chairman Colin Wood
Vice Chair Paul Parr
Secretary Derek Leech
Assistant secretary Maeve Devlin
License Secretary Stephen Irwin
Treasurer Stephen Irwin
Pro & Website Brian Lammey
Safety officer Keith Graham
Chief Marshal Nigel Mc'Cracken
Assistant Chief Marshall Maeve Devlin
Track master Colin Wood
Assistant track masters Cecil Haffey. Alexander Weir.
Pits Marshal Adam McCready
Assistant pits Marshal Barry Leech
Pits caller Ian Newport
Start line Marshal Michelle Cochrane
Finish line Marshal Hazel Cochrane
Chief Scrutineer Conor Devlin
Assistant Scrutineers Emmett Kelly,David Mc'Neill
Gate Colin Wood
Gate assistant Stephen Irwin.
2017 Down Autograss Race Dates
15th 16th April
20th 21st May 21st National Qualifier
10th 11th June
1st 2nd July. Down Open Weekend. Cash prizes for adult classes Trophies for Juniors. Plus King of Down.
12th 13th August
16th 17th September
30th Sept 1st October
Reserve 14th 15th October.
All Ireland Dates for 2017
The 2017 All Ireland Autograss Series are as follows
Round 1 Carlow Autograss - 6th/7th May
Round 2 Causeway Autograss - 3rd/4th June
Round 3 Cork Autograss 22nd/ 23rd July
Round 4 Mallow Autograss 26th/ 27th August
For Sales Page
Looking to get into Autograss or a change of class for 2017. Check out the For Sale section of the website.
Congratulations to our Cup Winners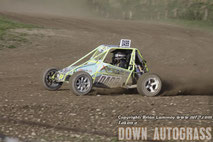 Congratulations to our Cup winners over the weekend of 10th & 11th of September.
Jenson Cup 10/9 - DA24 Evan Curran
King of Down 11/9 - DA99 Wayne McKenzie
Annie Moore Shield - DA43 Adam Cochrane
DGQRH Shield - DA141 Shane Parr
Weir Claims National Championship
Over the weekend of 3rd & 4th of September Alexander Weir represented Down Autograss at the Juniors National Championship staged by the Wiltshire league.
Competing against over 60 cars Alexander progressed through to the Semi finals, then the final and went on to win the National Championship, becoming the first Northern Ireland racer to have won the Junior Saloon title.
Everyone at Down Autograss would like to congratulate Alexander on his success.
Photos below thanks to Jeffrey Parish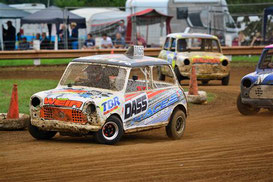 A word from the Chairman
Delighted with the Down results from the 2016 AIAS, been a great season with so many relatively new faces taking the silver and the continued support from our southern members, traveling is a big cost in our sport, but the Down members have traveled the miles and achieved their goals. With 2 club meetings left in the season 11_12 September and Jamie is sorting out our reserve date which was agreed earlier in the season. I am sure Brian Lammey will be updating us shortly, must say spectator numbers are up at club meetings Big thanks to Brian for his hard work. Understand the finals of the Northern Ireland League will be hosted by the Causeway Club on the 25th Sept when the awards will be presented.
Big thanks to all the members, their families who traveled to support our drivers in AIAS, 2016 has seen 29 new members join our club NASA tells me this is a great achievement because in general a lot of clubs are declining in numbers so well done Down give yourselves a clap, remember more silver up for the taking before the season finish's so keep doing what you are doing so we finish on a high.
Ashley Heffernan achieved 4th in class 4 was very special this year delighted to see him behind the wheel. Good man Ashley. Finally great to see our AIAS junior saloon Alexander Weir going to the junior nationals this weekend good luck Alexander Weir
Colin Wood
Congratulations to all our AIAS Winners
Congratulations to all our AIAS winners following the final round of the series at West Waterford at the weekend.
With the points all totaled up we are delighted to have six All Ireland Champions at Down.

The following Down cars won their class
DA55 Alexander Weir - Junior 1
DA77 Matt Jess - Class 1
DA119 - Dylan Roche - Class 2
DA142 - Paul Parr - Class 3
DA24 - Evan Curran - Class 6
DA777 - Jerome Lynch - F1200
Also on the Sunday Davy Curran won the fastest man on grass in his class 4
Points arising from Club meeting 27/6/16
Drivers and club members please note some of the points that have come about from Monday evening's club meeting.
Sign on & Start Times - In an attempt to improve punctuality and get meetings started at 1pm sharp, scrutineering will now open at 10am and finish at noon. Drivers sign on will close at 12noon. Sign on will close at 12.30pm, any driver not signed on by 12.30pm will incur a penalty of starting their first heat 3 car lengths back, any driver not signed on for 1pm will incur a penalty of exclusion from their opening heat.
Complaint Procedures - Official complaint procedures will now be in place that any driver who wishes to make a complaint must go up to Colin at the gate and request a complaint form. The complaint must be made in writing and should be completed and returned to Colin along with a fee of £20 for lodging the complaint. If the complaint is found to be justified and the driver found to be in the right, the fee will be refunded. Complaints must be lodged immediately after the race they relate to.
This Weekend's Racing - Following the abandonment of the last Sunday of racing, drivers who had signed on for the day will get a free sign on this weekend. The Jenson Cup, DGQRH Shield and Annie Moore Cup will now be raced for on Saturday 2nd of July and the King of Down will be run on the Sunday